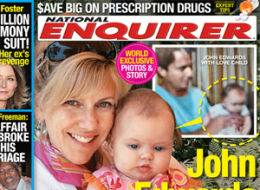 After her $15,000 monthly payments stopped with the death of money man Fred Baron, John Edward's mistress blonde divorcee Rielle Hunter abandoned the lavish $3 million home that was being rented for her in ritzy Santa Barbara, California, sources tell The ENQUIRER.

Now she and her 10-month-old daughter Frances, who she privately says is Edwards' love child, are living with her longtime friend Mimi Hockman in South Orange, about 20 miles west of New York City, according to insiders.
What is it about rich Democrats having their loved ones living in poverty?
UPDATE: Obama denies knowing Aunt's illegal status…

Democratic presidential candidate Barack Obama said Saturday he didn't know that one of his relatives was living in the United States illegally and believes the appropriate laws should be followed.

The Associated Press found that Obama's aunt had been instructed to leave the country four years ago by an immigration judge who rejected her request for asylum from her native Kenya. The woman, Zeituni Onyango, is living in public housing in Boston and is the half-sister of Obama's late father.

"Senator Obama has no knowledge of her status but obviously believes that any and all appropriate laws be followed," according to a statement given to the AP by Obama's campaign.